Manga Monday- My Love Story!!
Manga Monday- My Love Story!!
My Love Story!!, is a Japanese romantic comedy manga series written by Kazune Kawahara and illustrated by Aruko. The manga was serialized in Shueisha's Bessatsu Margaret magazine and is being published in English by Viz Media.
The series debuted as a 100-page special in Bessatsu Margaret Sister in October 2011 before becoming serialised in Bessatsu Margaret, ending with a 100-page final chapter on July 13, 2016. The first volume was released by Shueisha on March 23, 2012, and the thirteenth and final volume was released on September 23, 2016. Viz Media has licensed the series and released the first volume on July 1, 2014.
Reception
It won the award for Best Shōjo Manga at the 37th Kodansha Manga Awards. It was number one on the Book of the Year list of Female-Oriented Comics from January to June, 2013 by Da Vinci magazine and number five in the annual list of 2012. It was nominated for the 6th Manga Taishō. In Takarajimasha's 2013 edition of the guidebook Kono Manga ga Sugoi!, a survey with more than 400 manga professionals, it was selected as the best series for female readers; in the 2014 edition, it was the 15th best. The fifth volume was the 53rd best-selling manga volume of the first half of 2014. It was also nominated for the 18th Annual Tezuka Osamu Cultural Prize "Reader Award". In 2016, the manga won in the Shōjo category at the 61st Shogakukan Manga Awards.
Story
The story follows Takeo Gōda, a tall and muscular student who doesn't have much luck with women, as every girl he likes ends up falling for his best friend, Makoto Sunakawa, who is charming and good-looking. This all changes when he saves Rinko Yamato, a petite shy girl who, above all other expectations, falls in love with Takeo, beginning a unique love story.
Characters
Takeo Gōda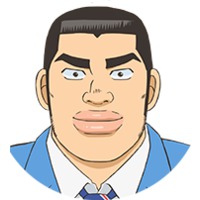 The protagonist of the story and a first-year student at Shuei High School. He is very tall and muscular, easily dwarfing everyone around him. Women tend to find his appearance off-putting or frightening, likening him to a bear or gorilla, but Takeo nevertheless has many friends due to his popularity among men, who are inspired by his strength, physique, and vitality. Despite his hulking appearance and strength, Takeo has an affable personality and is actually extremely kind and selfless, quickly helping others without a second thought throughout the story and never holding a grudge for things people say about him. Near the beginning of the story, he saves Rinko from a groper and quickly develops feelings for her, but mistakenly thinks that she likes Makoto. Rinko later on confesses her love to Takeo, to which he gladly accepted.
Rinko Yamato

A girl whom Takeo saves from a groper on a train. After Takeo saves her, she immediately fell in love with him. Unlike most girls, who find Takeo frightening, Rinko admires his strength, confidence, and kindness, and she doesn't seem to pay any mind to his unusual size or appearance. She attends Koizumi Girls' Academy and is very skilled in baking and making sweets. Rinko is the first girl who has been called "a nice girl" by Makoto, presumably since she's the first to look past Takeo's appearance. It is later revealed in an extra chapter, the true reason why she really fell in love with him was because Takeo saved her when she was younger and met her for the very first time, though he mistook her for a guy when she was lost in a dark cave before meeting her again on the train, unaware that she was the same person he met many years ago.